Note from Shelley – Seven years ago, Amber O'Hearn wanted to lose weight, so she decided to stop eating plants for a few weeks.  She did lose weight.

  But something else unexpected happened.  On this "zero carb" no-plant diet, Amber's

 20-year struggle with major depression and bipolar disorders went away.

  Since then, Amber's stayed on her diet.  Her

 weight has remained in a healthy range.

 

And she hasn't needed any mood stabilizer drugs.  Listen Here for part 1 of Amber's story (59 minutes – music thanks to Lynn Patrick)
TRANSCRIPT
SHELLEY – You're a computer scientist. Are you a data geek?
AMBER O'HEARN
Yes, I am a data geek, but my interest in computer science actually came from my interest in math. It turns out that computer science is really just math on steroids. And I went to university initially to study math. And I was also interested in languages and I eventually became a computer scientist and now I'm a programmer for a living.
Do people say you're pretty smart?
AMBER O'HEARN
Yeah, I think a lot of people respect my intellectual ability and think that I'm smart. I tend to be modest because the more you learn the more you know that you don't know. So I never want to close my mind and think that I know more than I do just because I'm thinking about it a lot.
Food Pyramid NON-Follower
You don't exactly eat the way the American "Anything" Association says to eat. Let's name some "rules" you're supposed to follow about how to eat. Such as . . . the United States Department of Agriculture. Do you follow their rules for how to eat?
AMBER O'HEARN
Not at all. Not remotely.
Do you follow dietary recommendations of the American Hearth Association?
AMBER O'HEARN
((LAUGHING)) No.
Do you eat like Michael Pollan?
AMBER O'HEARN
Even Michael Pollan and I differ quite a bit in what we would recommend people eat.
Former Vegetarian
SHELLEY – How about all of those people who say it's best for you to eat lots of leafy vegetables and fruit and a little bit of meat and keep fat low and healthy carbohydrates high?
AMBER O'HEARN
I really resonate with those people because I think that people who are vegetarian or who eat mostly plant diets care a lot about the same things I care about, which is health and the environment, and I think that all that happened was that I looked at the data differently than they did. I was brought up vegetarian, and I loved eating that way. I became a very proficient cook. I made all kinds of Middle Eastern foods and I loved all those vegetables that people complain about. Like broccoli and spinach. I never had any issue with the taste of vegetables. I think they're wonderful. But when I started eating this way, which I did for health reasons . . .
SHELLEY – What is "this way" that you eat?
Amber Eats ONLY Meat and Animal Fat – No Plants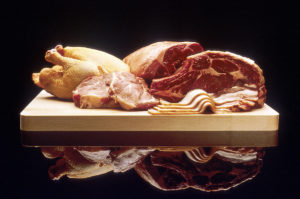 AMBER O'HEARN
When I started eating only meat, I was a little bit worried initially, that I was feeling more healthy in spite of the fact that I wasn't eating vegetables, instead of because of the fact that I wasn't eating vegetables.
SHELLEY – You eat ONLY meat? Lean or fatty?
AMBER O'HEARN
Primarily fatty meat. I will eat some leaner things like fish. I guess fish would be the leanest thing I eat, but I always prefer very fatty meat. Red meat is my particular favorite, and I think it's the healthiest. I will eat the darker meats of chicken and poultry. And if I do eat lean meat, I make sure I add other fat in the form of tallow and butter, so I'm not eating too lean.
If we were to estimate the amount of calories you eat on your meat only diet n terms of protein, carbohydrate and fat, would you say that ratio is.
AMBER O'HEARN
By calorie, when I have measured it, I tend to eat somewhere between 65% to 80% of calories as fat. And I eat about 2,000 to 3,000 calories a day.
How many calories of carbohydrate?
AMBER O'HEARN
Essentially none. There are cuts of meat or non-plant foods that have carbohydrates in them. I don't drink milk. That has a lot of carbohydrate in it and too much for me. But I will have cream on occasion or cheese. Seafood and liver all have small amounts of carbohydrate in them. Even eggs, but the amount of carbohydrate in them is essentially negligible.e
65% to 80% of your calories are fat. . . so is the rest 20 to 35% protein?
AMBER O'HEARN
Yes, 65% to 85% fat, and all the rest is protein. So it could go has high as 35% or as low as 20%
This is not the way the American Medical Association, American Heart Association, Food Pyramid, Etc . . . says to eat. But you say it's not the flavor that led you to choose this way to eat. What did?
AMBER O'HEARN
I had been eating a low carb diet for a very long time, and that definitely improved my health. But there was a point where, over the years, I noticed I was becoming fatter. That was difficult for me, because I knew I was eating healthy. I have a very strong propensity to being fat. It's in my family. I don't know if it was because I was getting older, or I'd had children, but it was disturbing to me.
SHELLEY -You're pretty trim now. Would you say you're at a good weight?
AMBER O'HEARN
I don't remember my BMI exactly but I think it might be 20 or 22. So it's right smack in the middle of what's considered ideal.
Started "ALL-MEAT"to lose weight
SHELLEY – Today you're at an ideal body weight. How long ago were you heavier?
AMBER O'HEARN
It was at the end of 2008 that I was beginning to feel severe frustration with my weight. And at that time, I was searching on the internet, and I noticed some people who were eating only meat, and they had come from a low carb background, and they were reporting success stories of losing weight that they hadn't been able to lose, even on a low carb diet, and other health benefits that they were unexpectedly seeing. So I thought to myself, why not give that a try? After all, eating only meat is really close to an extreme version of a low carb diet. It's very close to what people recommend, even Atkins in his induction phase or the beginning of the protein power regimen. Just really cut back on the vegetables for the first few weeks. And I thought to myself, I could do that. Maybe I could do that for three whole weeks. And then maybe that would allow me to drop some of this weight that has accumulated, then I can go back to my regular low carb diet.
SHELLEY – Back in 2008, how much did you weigh?
AMBER O'HEARN
At that point, I was probably over 190 pounds. Now I weigh 130
SHELLEY – Seven years ago, you were sixty pounds heavier.
AMBER O'HEARN
One and a half times my current weight, and I'm five foot six.
What happened when you started eating all meat and you cut out fruit, vegetables, starches, sweets . . .
AMBER O'HEARN
It was intimidating at first to cut out everything except meat, and I spent a lot of time preparing for it mentally. I wanted to give it a real chance and do it more than a couple of days. I thought three weeks would be a good enough trial to see if it would really help me.
You had children consider also?
AMBER O'HEARN
Two children. One of them was seven and the other was four.
Did you decide to feed family differently than you?
AMBER O'HEARN
The diet that I was feeding my children and my husband at the time was basically a low carb diet. They didn't have the same kinds of restrictions as I did in trying to keep their carb count as low, but we ate the same meals.
Before switching to All-Meat, what did your family used to have for breakfast?
AMBER O'HEARN
Bacon and eggs, or some kind of lower carb version of traditional breakfast things. For example, we sometimes ate pancakes made out of rice protein powder with some sweetener. Sausages.
Plus, you ate salads, and did you give your kids fruit now and then?
AMBER O'HEARN
We definitely ate fruit. We ate salads. We ate a lot of salads. Salad was our mainstay. On a low carb diet, you typically eat some meat and a lot of vegetables. A lot of low starch vegetables. So we had salads with every meal.
Seven years ago, even eating this way, you were getting heavier than you wanted to be. Was gaining weight the only health problem you worried about?
AMBER O'HEARN
That was the only health problem that I had that I thought was diet related.
So you had some other health problems, but you were kind of thinking, well, those other problems are just who I am?
Before All Meat – MAJOR DEPRESSION
AMBER O'HEARN
Yes. In particular, I had an adult-long problem with depression. When I was about 20 I was first diagnosed with major depressive disorder. And that came back many times throughout the years, and it was getting worse and worse.
How does major depression feel?
AMBER O'HEARN
Depression feels like low energy and low motivation and kind of loss of faith in the world and that anything is going to go well for you. There's a real disengagement with people and a real disillusionment with life.
Is depression like all the color goes away?
AMBER O'HEARN
Yes. Almost literally. There have been times when I tried different antidepressants, and sometimes the first symptom if it was going to be helpful, and some of them were helpful for a time, would be actual more vivid colors appearing in my life.
Seven years ago, you assumed you'd always need prescription medications?
AMBER O'HEARN
Yes. It's often talked about as some kind of a brain imbalance where it's just part of your physiology to be depressed. It's talked about as a disease and something that should be managed throughout your life. I was initially put on Prozac. This would have been around 1992. That was one of the only drugs of that class that was available at that time, and there was a lot of excitement about it because it was new. Initially it did help me. I don't know that it had any side effects that I was aware of, but I was on that drug for a very long time.
Did Prozac keep helping?
AMBER O'HEARN
It didn't keep helping me.
How could you tell?
AMBER O'HEARN
I was still depressed (LAUGHS)
The colors didn't stay bright?
AMBER O'HEARN
They didn't, and you know, when you're one person, you never quite know what the alternative is. If I had stopped taking Prozac, which I did at certain times out of frustration, would I get worse, is it really helping? Would I be more depressed if I weren't taking it? Those kinds of questions you can't really answer as an individual. So I did for the most part continue to take it for well over a decade.
Let's fast forward to roughly 15 years after you started taking Prozac to when you decided to start eating all meat because you wanted to lose weight.
AMBER O'HEARN
Before we do, there were changes in my depressive disorder that I'd like to tell you about. I started taking other antidepressants because the Prozac wasn't helping. What is known now but wasn't known, at least to me then, is that antidepressants, if you have bipolar disorder, can increase the progress of that disease.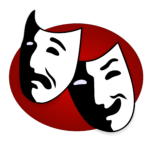 Bipolar is often described as feeling depressed but also, alternating with feeling manic. Not being able to sleep. Getting a little too high.
AMBER O'HEARN
That's absolutely right, and in Bipolar Type I, you can have psychotic episodes, you can have extreme mania. It's life destroying. It's very scary. What happened with me is that I started having symptoms of BiPolar II, which is mostly characterized by depression. But it has what are called "hypo-manias," which are like mania but less severe. And I now believe that it was the antidepressants that were hastening the progress of that propensity that I had. So it's like I had bipolar disorder but it was latent and it was progressing.
When you were having a mild mania, would you get really giggly and be telling jokes and after a couple of days you would crash?
AMBER O'HEARN
Yes. There are things like wanting to talk really fast. Having ideas that seem really exiting to you. It actually feels really good to have a hypo mania. But it doesn't feel so good when you then crash. And it can be concerning for the people around you.
So you had started taking Prozac around age 20. But about a decade later, you got re-diagnosed?
AMBER O'HEARN
I was really excited, because I was re diagnosed with bipolar II. That may not sound very exiting. It's a bit of a more dangerous disease. But I thought, oh, this is the reason the medications have not been helping me is that they're not the right ones. Now I can start taking the right kind of medication and I will finally get better.
What new medications did you take?
Mood Stabilizing Drugs & Ketogenic Connections
AMBER O'HEARN
I tried a variety of medications for bipolar disorder. Most of them are anti-epileptic drugs, which is interesting.
SHELLEY – What makes it interesting than many bi-polar medicines are anti-epileptics?
AMBER O'HEARN
There may be similarities between epilepsy and bipolar disorder, and ketogenic diets have long been helpful in epilepsy, and we are only beginning to see some reasons to believe that they will be helpful in bipolar disorder.
What is a ketogenic diet?
AMBER O'HEARN
Ketogenic diet is a fancy word for a low carb diet. What happens is if you eat little enough carbohdyrate, your body will start to rely on fat metabolism instead of sugar metabolism. And one of the metabolites that's being used when your body relies on fat is called a ketone. So it's a ketogenic diet.
Speaking of ketogenic — just occurred to me Amber O'Hearn. . . The American Diabetes Association is one of the groups that warn that if people don't have 150 grams of carbohydrate a day, your brain cannot function properly. You're all-meat diet is a ketogenic diet. How is your brain?
AMBER O'HEARN
Still alive!
You were saying there's evidence that a ketogenic diet for epilepsy might also help with bipolar disease. Were those thoughts in your mind seven years ago, when you decided to try. an all meat and meat fats diet.
AMBER O'HEARN

Absolutely not. When I encountered the forums on the internet where people were eating only meat, one of the people involved, whose name is Charles Washington, said something that has stuck with me for a long time. He said, "only the lucky ones get fat." What he meant by that is that it is really hard to be overweight in our society. People make all kinds of horrible assumptions about someone who is fat, regarding their incompetence and their intelligence. That comes from the mistaken idea that if you're overweight, all you have to do is work at it. If you'd only eat a little less and exercise a little more, you could control your weight. So when we look at someone who's overweight, we think undisciplined. So it's very uncomfortable to be fat in this society. And what Charles meant when he said, 'the lucky ones get fat,' is that, there's a huge motivation to lose weight when you're overweight. When you discover as many people do, that the dietary recommendations that are current in our society are not helping the majority of people who are overweight, people who are very driven will start looking for other solutions. And if you find a low carb diet, then you're very likely to increase your health in many ways beyond losing weight.
For you and many people, Charles Washington says It's so painful to be in a society that shames people that are overweight, that you looked extra hard for a solution.
AMBER O'HEARN –
Right.
3 Weeks All-Meat- Reverses 20 Years of Depression
SHELLEY – You were already on a low carb diet, Amber, when you decided to switch to an all meat, mostly meat fat diet.
AMBER O'HEARN –
That's right. And my motivation at that time was completely based in vanity Here it was January of 2009, and I had decided I was going to try an all-meat diet for three weeks. I timed it so that the end of the three weeks would be my birthday. On my birthday I was going to have a slice of birthday cake, And that birthday cake slice never came, because the effects of my all meat diet were so profound that I felt it would be irresponsible not to continue it.
Was it because you were losing weight and you were happy about that or were there other effects that surprised you?
AMBER O'HEARN –
I was losing weight and I was ecstatic about that. I lost about 10 pounds in those three weeks. But what happened that was astounding is that within about 2 weeks, my mood became stable.
How could you tell?
AMBER O'HEARN –
I noticed that I was feeing a lot better, happier, more energetic, enthusiastic, motivated. But when you have had bipolar disorder, you lose some trust in your own brain. It's easy to think, oh, I could just be having a hypomania. This isn't real. It's a very difficult disease to deal with in that way.
SHELLEY – You said you were put on special medicines that were specially designed for people who are Bipolar II. Hadn't those medicines been helping you?
AMBER O'HEARN –
No. To the contrary. Some of those medicines gave me short term relief. None of the helped in the longterm, and all of them came with much worse side effects than any of the antidepressants I had had ever did.
What kinds of side effect.
AMBER O'HEARN –
One of them caused me to have trouble recalling words. One of them gave me shock-like sensations down the back of my head, which I looked up and are lovingly called brain zaps by the internet community. One of them made it uncomfortable to sit. It's called akathisia, and I constantly felt like my back was not in the right position. And one of them gave me such deep anxiety, that at every moment, I thought that I or one of my children was going to die that day.
What were the names of the medicines.
AMBER O'HEARN –
I'm not sure I remember mapping the names to the symptoms. But I know I was on Lamictal, Aripiprazole ((often sold as Abilify). I did try Seroquel which made me sleep like a zombie – It was just completely debilitating. And there were a few others.
Well-regarded bipolar II medicines available to doctors today. They didn't quite work for you.
AMBER O'HEARN –
Not only did they not help me. But they made my life miserable, and my disease was progressing. My cycles of mood changes were becoming more rapid, and the states were becoming what they call mixed states. So it wasn't just a matter of being super depressed. Or being super happy. I was having anxiety combined with anger. I was having low energy with high mood. It was really a nightmare.
When you switched to your all meat, mostly meat fat diet, and you started to feel as though your mood was stabilizing, were you still taking those medications?
AMBER O'HEARN –
I was on a very small dose of Abilify. That was the one that caused a great deal of anxiety. And if I dialed back the dose, the anxiety was just barely there, so it was manageable.
As you started feeling more stable, two weeks into your all-meat diet, what did you do?
AMBER O'HEARN –
The first thing that happened was I wasn't sure about it. So I asked my husband. I said to him, you know, I've been feeling a lot happier. My mood feels better. And he took me in his arms, looked in my eyes and said, Amber, your mood is more stable now than it's ever been in the course of our marriage. And this was two weeks on an all meat diet.
So he had noticed.
AMBER O'HEARN –
He had noticed. It wasn't my imagination. So at that point, I thought, well, I'm sticking with this.
Surprise!  Pregnant!
AMBER O'HEARN –
A complication came up because another week passed, and I discovered I was pregnant.
SHELLEY – Pregnancy causes moods to go up and down a lot.
AMBER O'HEARN –
It sure does, especially in those susceptible. It also drives fat storage. So after about four weeks of being on a no carb, meat only diet, I started to have intense carb cravings, and I think that's because my insulin levels had gone way up.which is the body's hormonal way of saying, please make me fat. After a few days of dreaming about carbohydrates I went to the local restaurant. I ordered three entrees and ate them all.
Do you remember what you ate when you got carb cravings early in your pregnancy?
AMBER O'HEARN –
One of them was a quiche. Another was pancakes. It was very carby food. Not what I'd been eating before, including before an all-meat diet. That settled down. By the time I was well into the pregnancy I was eating a low carb diet again and even several all meat days. It wasn't until I gave birth that I decided to try to all meat diet again. One week after my youngest child, Graham was born, I started a zero carb diet again. And once again, within less the two weeks, my mood became completely stable. That was almost seven years ago, and I haven't looked back.
Seven years now eating a no-carb diet. Are you taking the bipolar medications?
AMBER O'HEARN –
No. That was another funny way that this unfolded for me. The fact that I was pregnant meant I could not longer take those drugs safely. So I was off all mood-stabilizing drugs for the course of the pregnancy.
With your doctor's recommendation – no medications. For the sake of the baby.
AMBER O'HEARN –
Absolutely. As soon as the baby was born, I started the diet again, and I no longer needed the medications.
Did you let your doctor or your psychiatrist know you were no longer taking the medications?
AMBER O'HEARN –
Yes. I consulted with my doctor. He could see the effect it was having on me. And my husband was there with me to corroborate that I was really okay. He was really quite thrilled about it. He ((Amber's doctor)) did not exactly like the fact that I wasn't eating any vegetables at all. He said, you should do it just like that, except eat some green, leafy vegetables. And I said, Well, I'll think about it.
Do you mind if I ask who is your psychiatrist.
AMBER O'HEARN –
The name of my psychiatrist? I was working with Deborah Stetler at the time. And I didn't go back to Debra Stetler. I continued to consult with my family doctor, Paul Berger. It was my family doctor who was open to my diet. I actually didn't consult with Dr. Stetler again, because I felt there was no need.
Did you ever talk with your psychiatrist about how you were eating.
AMBER O'HEARN –
I consulted with my psychiatrist before I was pregnant and I didn't tell her I was changing my diet . . When I became pregnant, she and I both agreed that I wouldn't continue with that medication. So there were nine or so months when I was without medication. By the time my baby was born and I went back on the diet. I didn't need to consult with her anymore.
Then you consulted again with your family doctor.
Positive Feedback from Family Doctor
AMBER O'HEARN –
My family practitioner here, Dr. Paul Berger in Boulder.
Paul Berger is known as someone who is open to different ways to eat.
AMBER O'HEARN –
Dr. Berger already recommends that people eliminate certain foods from their diet to determine whether it has consequences. So he was very open to see what had happened for me.
With his guarded blessing, you continued on this all meat and meat fat diet. Do you take Vitamin C.
AMBER O'HEARN –
I almost never take supplements.
If you don't take Vitamin C when you're only eating meats then your teeth are going to fall out and your joints are going to hurt.
AMBER O'HEARN –
Absolutely not. I don't have scurvy, and as arctic explorers know, fresh meat will cure scurvy because it has enough vitamin C to meet your needs.
Is there also some thought among those doctors and historians who have studied arctic explorers and the Inuit, that if you're not eating carbohydrates, your need for vitamins, such as vitamin C, goes down  (Note from Shelley – See Steve Phinney's discussion Pemmican and Indigenous Diets among cultures that ate no plants.)
AMBER O'HEARN –
That's an excellent point. There are couple of reasons for that that I can tell. One is that, it's not advertised very widely, but meat is much more nutrient dense than vegetables are. I think that the reason that we talk about vitamins and nutrients in vegetables is to get people to eat them. Not because they're lacking in meat. The other thing is that carbohydrate metabolism is taxing on the body. It's taxing for magnesium. It's taxing on the thyroid. So not only do I get enough vitamins and minerals from the meat that I eat, but there are certain vitamins and minerals I need less of.
You just mentioned thyroid. Had you ever had thyroid issues in the past.
Low Thyroid Problems Went Away
AMBER O'HEARN –
Yes, in fact, I was diagnosed as hypothyroid, and I was taking thyroid medication before I went on an all meat diet, and now I don't have to.
SHELLEY – Hypothyroid means not enough thyroid. Which can be part of gaining weight, and which can be part of being low in energy. So in addition to your bipolar medicines, you were taking a supplement to boost the thyroid in your body
AMBER O'HEARN –
That's right.
And now you don't need to do that?
AMBER O'HEARN –
Right.
How's your energy?
AMBER O'HEARN –
Fantastic!
Carb Intolerance and Toxic Plants
SHELLEY – What do you think is why this way to eat fits you so well? Is it just because you chose it, and there's a placebo effect to choosing something that makes it work better for you?
AMBER O'HEARN –
I couldn't totally rule that out, but the effects have been so significant, that I highly doubt it's just about my choice. I've been thinking about it a lot, because I've been eating this way for a very long time. Seven years. One hypothesis I had originally is that different people have different tolerances for carbohydrate, and maybe mine was just particularly low. So eating all meat means that I get almost no carbohydrate, and maybe that's just where I needed to be. But as I began to study the role of vegetables in diet, I found out that not only are they not necessary for health, but they don't necessarily have the benefits that people think they do.
But Amber, it's well documented that vegetables and fruits are loaded with phytonutrients. Superfoods like blueberries, like kale, any kind of dark green leafy vegetables. Radishes. Onions.
AMBER O'HEARN –
Plants are full of drugs. That's because they evolved a different strategy for survival than animals who can run. Plants are under attack and they can't get away. So they have developed what I call biochemical warfare, really. Their bodies are full of chemicals, usually pesticides that will kill an insect that tries to eat it. Some plants are poisonous to animals.  There are even reactions where the poison won't come out for example, until the leaf is torn. Or if the plant has been particularly foraged that year it will up its amount of toxins. Some people have the idea that humans evolved with a kind of symbiosis with plants, such that eating little bits of them provided us with things that we needed in order to stay healthy. But that doesn't seem to be the case. Many of those phytochemical are just as damaging as they are healthy. Yes you can isolate them and concentrate them, and provide a treatment, the way you would a drug, but that's a drug. That is not something that is necessary for health.
Plants according to many people have great nutrition that can help us be well. But I hear you saying the plants have many weapons of mass destruction inside them to protect them so they on't get eaten too much.
AMBER O'HEARN –
That's right.
It's not that plants have anything against us humans really, it's more that they're trying to protect themselves from the funguses and the bugs that normally eat them. But those bugs and parasites are similar enough to us, the plants can hurt us, too, those weapons they have.
AMBER O'HEARN –
In the case of vegetables, when you're eating a lot of them, you're eating small doses of poisons. People talk about the disease fighting chemicals that can be in plants. I want to caution that while there may be elements inside plants that we could use by concentrating and isolating to fight a disease, they're often a double-edged sword. Consider for example chemotherapy. Chemotherapy kills cancer cells, but it also kills healthy cells. The goal is to try to kill the cancer cells faster than you kill the healthy cells. Just because you've isolated something inside a plant that fights cancer doesn't mean it's good for you all around.
Do you have friends who eat a lot of vegetables who are very healthy and have stable moods.
AMBER O'HEARN –
Absolutely.
Why do you think you're different?
AMBER O'HEARN –
I don't know if my body's just more sensitive than others, of if they just don't know how good they could feel if they stopped eating plants. I know it's anecdotal, but I've been on forums where other people are eating the way I eat and finding the same kinds of things I'm finding. There seems to be a lot of relief from diseases that are autoimmune in nature. Arthritis, multiple sclerosis, symptoms of Lyme disease. People who are having troubles that are considered progressive, life long diseases that we don't know how to solve, sometimes have been getting relief from not eating vegetables.
Although there are also people with these serious conditions who have gotten relief from eating a very high amount of leafy green vegetables and a very small amount of protein and fat, and they've gotten better, too.
AMBER O'HEARN –
That's true. And there's only so far we can go with anecdotes without doing more controlled trials. However, it's often the case that people changing their diets, even if the change is not optimal — just the change from the standard American diet will still improve their health.
None of these people who report feeling better are eating Twinkies, so perhaps whatever they switched to was better. But you were already eating what most people would consider a healthy diet — lots of salads along with other food. You weren't eating ice cream or sodas and you weren't feeling better until you switched to all meat.
AMBER O'HEARN –
That's right.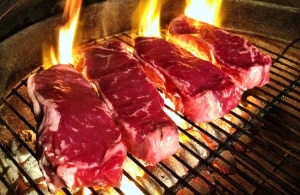 Meat Fat versus Protein
SHELLEY – Why do you eat mostly fat? Why not eat just lean meat?
AMBER O'HEARN –
There are two reasons I eat mostly fat, at least. One is that there's only so much protein your body needs. Protein isn't' really a fuel. It's used to repair your body. Once you've eaten enough protein to take care of the maintenance of your cells, what you really want is fuel, and fuel is provided by fat. I eat the protein I need that's adequate for my nutritional needs, and I get my energy from fat.
I'm guessing that you've experimented with eating a lot more meat and less fat.
AMBER O'HEARN –
Two things happened when I tried a lower fat, and thereby high protein diet. One is that I still felt hungry, and the other is that it just didn't keep my mood as stable.
Excess protein gets turned into sugars. The nitrogen gets cleaved off and what's left is burned as sugar.
AMBER O'HEARN –
It can be. I have a bit of a different take on that because I think once your'e on a ketogenic diet, your liver is providing your glucose. It's really a demand driven process. Not a supply process. So your body calls for sugar, just enough for the cells that need it, some in your brain and some in your blood cells. And just adding more material to make more sugar doesn't necessarily make your blood sugar rise. But I think what happens is that if you eat a lot of protein, there's a hormonal response to that and the hormonal response includes raising insulin. And if your insulin goes up, your ability to burn fat goes down. And if your ability to burn fat goes down, your body wants more energy from something, and it calls for more sugar. The end result is that eating too much protein will cause you to burn more sugar, even if it's not just that the protein turns immediately into sugar.
So in those ways, you noticed that when you ate more protein and less fat, you didn't feel as good.
AMBER O'HEARN –
Right.
Good Lab Results on All-Meat Diet
SHELLEY – How about your bloodwork? What does your bloodwork show about you? Do you have super high cholesterol? Do you have health issues that show up in your bloodwork because of your unusual diet?
AMBER O'HEARN –
My total cholesterol would probably be considered quite high. It's well over 200 However, I don't really care about total cholesterol, because I've learned through study that the kinds of cholesterol that are correlated with heart disease and other problems that we're seeing are high triglycerides and low HDL. And my triglycerides are extremely low and my HDL is very high.
How low is extremely low?
AMBER O'HEARN –
Last time I measured, it was definitely under 100 for triglycerides — it might have been around 50, and my HDL is around 50 as well. (Note from Shelley – Amber's looked these numbers up since the interview and reports this:  Last time I had them checked, my triglycerides were 82 and my HDL 102.  I think I told you they were both around 40 and I'm not sure what I was thinking of.  I guess the take home point is that I'm a lot less fixated on numbers these days.)  The ratio between them the is about 1 which is fantastically low risk.
Have you ever had inflammatory markers checked? C Reactive protein. Homocystine.
AMBER O'HEARN –
Yes, and they're all low.
Did you ever check your inflammatory markers before you switched to an all-meat diet?
AMBER O'HEARN –
Unfortunately no. I might just be lucky that way
However, you do know that your mood changed, and you husband says you're doing much better, and so does your doctor.
AMBER O'HEARN –
Yes.
How does Eating All Meat Affect the Environment?
SHELLEY – Let's talk about the environment. How are you saving the world if your'e eating so much meat and meat fat?
AMBER O'HEARN –
The first and foremost thing on my mind about saving the environment is that I can't help the environment if I'm depressed and sick. So I'm putting my own oxygen mask on first. However I think there's a lot of misunderstanding about the effect of livestock on the environment. In fact, a lot of the world's environment and ecosystem really can't sustain anything other than livestock. I had the great fortune to visit Ireland a month ago. And a lot of the land that I went by, there were sheep grazing and cattle grazing. There weren't plants being produced by humans to sell as food, because it's just not fit for that. Sheep, cattle and deer and other ruminants are a natural part of our environment. They belong here, and they actually help by fertilizing the land. It's a great boon to us to use that land and let the animals that evolved to be there be there.
Do you eat feedlot fed animals or processed meats like bacon and salami?
AMBER O'HEARN –
I mostly eat whole cuts of meat and not processed meat in the sense of smoked or dried, such as salami or bacon. I'll have them sometimes. But I'll feel best when I eat a roast or a steak. Those are the foods that really make me feel healthy.
I'm puzzled because a lot of those roasts are pretty lean. How do you get enough fat?
AMBER O'HEARN –
I prefer the fattier cuts. I obviously don't eat prime ribeye steak every day, but I'd prefer to! But also I keep the fat when I cook. I have jars of fat. You'd be surprised how much fat comes off of the leaner cuts, if you reserve it properly.
Oh, so you reserve any fat and eat that.
AMBER O'HEARN –
Absolutely.
Do you think the world could live with more people eating less grain and soy and dairy?
AMBER O'HEARN –
Grain has been a boon because it really allowed more people to live because it's cheaper to produce. However the quality of life has definitely gone down. I don't know what it would take to sustain all the people on the planet without grains, but I think it's absolutely something we should try to do, just as we strive to give everyone clean water. We don't say, well there's not enough clean water to go around, so let's drink dirty water. We all try to get clean water to ourselves and as many people that we can because that's what's known to be healthy.
Mostly Meat Family
SHELLEY – Well, your mood is solid now?
AMBER O'HEARN –
Yes.
How about your family. Do they eat the way you eat now?
AMBER O'HEARN –
They eat a heavily meat-based diet. My children also eat some plants. But we have found their moods also improve when they eat less vegetables.
How about your other health. Do you ever catch colds.
AMBER O'HEARN –
Almost never.
Did you used to catch colds.
AMBER O'HEARN –
Once or twice a year.
And now you don't?
AMBER O'HEARN –
I think I've had maybe two in the last seven years. When I initially was diagnosed with depression, my doctor was open to me trying a couple of nutritional therapies. She recommended a couple of different vitamins. She did recommend that I increase my protein intake. She was not at all surprised when I came back and told her that didn't work. As to bipolar. Bipolar if very very serious, and compliance with taking drugs is already very difficult, because of the side effects and people don't want to feel dependent, And also when you're on the rise on the mood it can easily be mistaken for getting better and not needing the drugs. So I would advise anyone trying this to exercise a lot of caution. Stay on the drugs you're on, and stay with someone who can help you from the outside know if what you're doing is actually healthy. Then, If it becomes clear that diet it stabilizing your mood, then you can gradually, carefully withdraw from drugs with the help of the person who's caring for that.
Add Plants Back in?  Or Never?
SHELLEY – Do you think that the overall change for you, in your writings, you've mentioned that you believe you reduced the inflammatory load to where your system to a point where your system could be healthy, by changing how you ate. You changed the number of foods that caused irritation in your body.
AMBER O'HEARN –
I do feel that. And because the change was so drastic, and there are so few foods that I initially started eating, I was able to notice the effects of adding just one food back, so I have for a long time stopped trying to mess with that.
What kinds of food did you try to add back in? Ice cream? Cake?
No. I do have a friend who's on a meat only diet. She gets relief from her arthritis, and when she tried Brussels sprouts she was in immediate pain again. For me, I haven't tried systematically adding foods back in. The risk is just so high. I don't want to end up lying in bed and looking at the ceiling and wishing I was dead. And I was in that situation before. It's just, I have too much at stake. I have three children. I have a job I love. I have all kinds of things I want to do with my life. And I don't want to waste anytime playing around to see if my mood is going to be good or not. It's just too precious.
So when the birthday cake comes out, and someone says, oh, just this one time, what do you say.
No thank you! I have a vegetarian friend who did offer me some food, and was quite frustrated when he offered me a piece of something delicious looking and I said no and he said, why can't you have just one bite? I was incredulous, because I would never turn to him and say, Why can't you have a bite of this meat? That's his choice, and he's doing it for reasons he believes in very strongly. I found that very disrespectful.
So he's your friend still?
AMBER O'HEARN –
Yes.
So you talked with him about it?
AMBER O'HEARN –
I just said, No Thank you.
You really think this could help other people.
AMBER O'HEARN –
I do. And I think here's very little to loose in trying ,even if it didn't help someone. Just knowing that you tried it. If you take the time to eliminate plants form your diet just for three weeks and nothing happens ,then you've learned something. It's absolutely safe but the possible benefits are so high, it's worth a try.
So, I'm trying to figure out how many calories you eat a day. Such as, how many ounces of meat do you eat?
AMBER O'HEARN –
I eat about two pounds of meat a day.
That's a lot of meat!
AMBER O'HEARN – – In recent months or years it's probably less. It's interesting, when I was losing weight was when I was eating more. So let me revise that. Today, I probably eat one to two pounds of meat a day.
So sixteen to 32 ounces.
AMBER O'HEARN –
Yes.
Do you look for grassfed versus commercially processed. Lean versus fatty.
AMBER O'HEARN –
I do ask for the fattiest cuts they have. I prefer local and sustainably grown meat. But when I began this diet, I did not shop for any special organic or locally raised meat. I used the same factory farmed meat that I had been using in the past. And it was absolutely unnecessary for me to do that to get the benefits that I got. However, I care about the environment, so insofar as I can afford it, I will prefer those kinds of farms.
Ancestral Meat Eaters
SHELLEY – So you think people evolved to eat a meat diet. There's plenty of evidence that hominids went through phases when they ate very little animal food. It was mostly leaves or fruit, and they always had some animal in their diet, but as a major part of their diet, there's not evidence of that until you get into the ice age, primarily.
AMBER O'HEARN –
My understanding is that the point at which our brains started changing into its present form is when meat because extremely important.
There's some evidence that the easiest foods to get as scavengers before "Man" learned how to hunt were the bones that a smarty little primate knew how to crack open, including the skull which is very fatty.
AMBER O'HEARN –
Right.
Have you ever had brain or sweatbreads?
AMBER O'HEARN –
I have had sweat breads. It's difficult to get brain because of regulations.
Because of mad cow disease concerns?
AMBER O'HEARN –
Yes.
So back to our ancestors and our brains . . .
AMBER O'HEARN –
I think, At the point where our brains were evolving, meat was the only food that could sustain the intense brain development that children have even after birth. And so I think it was at that point that we became a meat-eating animal.
MOSTLY MEAT DIET BABY
SHELLEY – You were eating primarily a meat diet with your third child.
AMBER O'HEARN –
That's right. And the first two years of his life, he ate only meat. When he went to day care where they were serving fruit for snacks, I allowed him to have that, and then he reacted to that. He had rashes. And I thought, you know, I know he doesn't need that, so we went back to an all meat diet. He now eats mostly meat, and a few root vegetables. he can tolerate.
How are your children's health?
AMBER O'HEARN –
They're doing great.
Do they get runny noses? Do they get earaches? Do they have attention deficit syndrome? Those things are so common today.
AMBER O'HEARN –
My youngest child, the one who was weaned onto meat, was so extraordinarily healthy the daycare providers commented on it constantly. Up through kindergarten, he never missed a day of school. Whereas all of his peers were missing school constantly. That means he was exposed to the same things and it just never took him out. So I would say for whatever reason, and possibly because of his diet, he is very robust.
How about your other children.
AMBER O'HEARN –
My other children eat a diet similar to mine and to the youngest. Although their inculturation started before, so it's a lot more difficult for them. However, I will say that my middle child had behavioral problems from a young age, which I eventually realized matched symptoms of Attention Deficit Hyperactivity Disorder, ADHD and also SPD, Sensory Processing Disorder, which is basically your brain is overloaded with information and having trouble organizing it. When he was four is when I discovered this diet on myself, and I tried it on him. And that had a profound affect on his behavior, so that's primarily his diet as well.
THIS AND THAT
SHELLEY – Have you ever tried boosting your fat intake even higher, so you get 70 to 85% of your calories from fat, and 17% or less from protein?
AMBER O'HEARN –
When I have tried to increase my fat to that degree, I often find myself hungry, and I don't tolerate hunger very well.
So you've done the experiment in all directions.
AMBER O'HEARN –
I've fasted, and not had much of a problem with that.
Do you consider hunger a form of chronic pain. Meaning that when your'e eating the way you're eating, do you feel hungry or do you just feel satisfied?
AMBER O'HEARN –
I feel satisfied the way I'm eating. I don't have to eat as often as I did when I was on a carbohydrate diet. In fact I typically eat two meals a day and sometimes just one.
Do you like to exercise?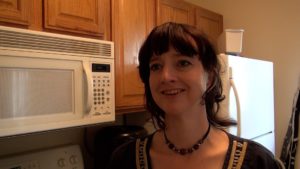 AMBER O'HEARN –
I like to play. I like to dance. I do some weight bearing exercises specifically targeted. The Power of 10. I go to Inform Fitness in Broomfield. You take your muscles to fatigue. You only have to work out once a week for 20 minutes. And with my children and my job and my hobbies, that's enough for me.
Amber O'Hearn, how old are you?
AMBER O'HEARN –
I'm 43
How old to people think you are when they meet you?
AMBER O'HEARN –
I think they tend to think I'm in my thirties. Although when I was in Ireland last month I had some twenty year old fellows think I was in my 20s, which was quite fun.  I might just be genetically lucky. But I do feel I have shed years in this process, just because of energy and enthusiasm, which goes a long way in youthfullness.
How are colors these days.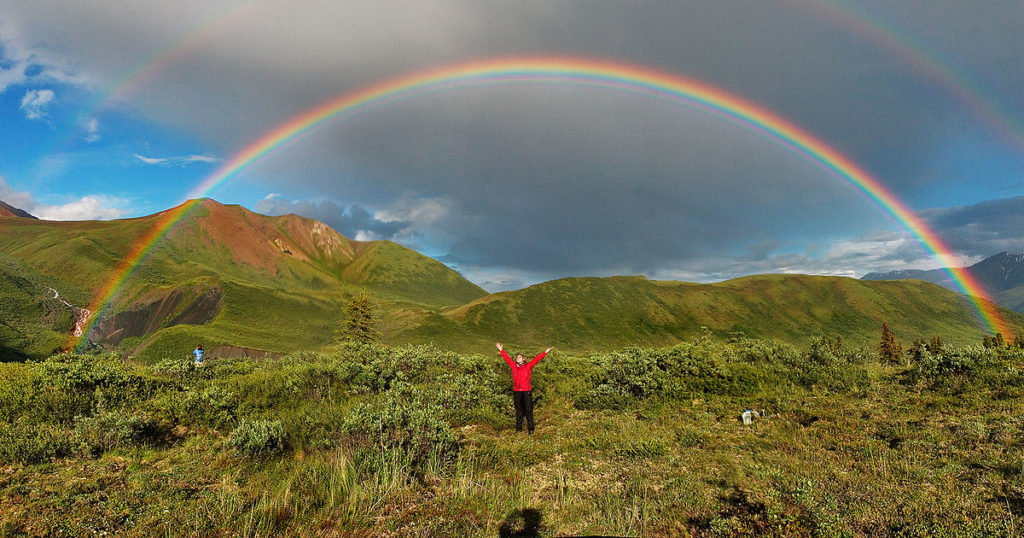 AMBER O'HEARN –
Bright and Beautiful.
Is there anything else you'd like people to know?
AMBER O'HEARN –
You asked me if I thought that everyone would do well on this diet, and we all know people who eat a lot of vegetables and don't seem to be troubled by them. What I think is that the evolved diet for us is meat based.  But some people can tolerate more vegetables than others. And I'm low on that spectrum, And other people may be as well.  I think there are plenty of people who could eat a diet including meat and vegetables and be healthy for the rest of their days.  But I do think there are lot of people who would benefit from cutting back on those plants.
Note from Shelley – For more on Amber, check out her Ancestral Health Symposium talk on Optimal Weaning.  In the weeks ahead, we'll follow this "part 1" with more stories from Amber, including an interview with her family doctor, Paul Berger, and a tour of how Amber cooks at home.  Stay tuned!
Update 2017-05-22 from Shelley – here's an interesting conversation about the ecology of diets, from Facebook posts of this article:
EC –
interesting read but she blew it on the environment part. England was covered in trees before they all got cut down so the sheep and cows could be there. I know we don't eat trees, but you can't say that because what's in a landscape today is one thing, it can't be somewhere else. Brazilian cattle are especially problematic
JF
I certainly used to agree with your objections, but it's not a simple story. Imagine if Iowa and Illinois were covered with grazing cattle instead of the di-cultures of corn and soy beans.
EC –
what a lot of methane they would be releasing! Iowa is pretty fertile land. I prefer imagining more diverse agriculture.
JF
This vegetarian (at the time) struggled to understand and accept the Joel Salatin chapter in The Omnivore's Dilemma, but I've concluded Pollan's presentation is far more correct than wrong. And when England was covered with trees the global population was less than 1 billion. Ireland does better with ruminants on its marginal land (with abundant water) than other crops.
EC – I think people and our planet would be healthier with more farmers/ranchers like Salatin. And more local farms providing our produce. But mostly, I am fascinated at the huge variety of diets around the world. I tend to believe that American usually eat too much meat. But I'm also now recognizing the carb overload. No wonder we like to say "everything in moderation, including moderation."
🙂
We agree, yet disagree. Would we tell an alcoholic or drug addict that everything in moderation is the right concept? I've concluded I do not need grains, and moderation is a real challenge. This is a fun watch: 
What's the point of low carb, shouldn't we all…
EC –
True, it's not the recipe for everyone. Again, it fascinates me that through all the years of human existence, there is no "one" diet that works for everyone. I am okay promoting a vegetarian (or really we go pescatarian) diet, but I would not insist that is right for everyone. People thinking more about their food choices? Oh yeah. There are so many refined foods in the modern diet.
Amber O'Hearn –
Interestingly, the common denominator of every diet that has ever "worked" for a group of humans across many generations has been that it contained animal sourced foods. Everything else can vary, but ASF is always found in healthy populations.  
My take on moderation is that it presupposes what counts as worthy of moderation. I don't eat arsenic in moderation. The only things I consume that I think warrant moderation are those that I understand aren't wholly beneficial, and that I'm partaking in for some other reason, and I'm weighing cost and benefit for. The whisky I had this evening falls in that category. Nothing I regularly eat do I think of as something subject to conscious moderation. No animal on its natural diet does. Evolution wouldn't select for a diet that requires policing.
By the way, I thank you, Elaine, for the feedback on the example I used about arable land. I certainly didn't mean to be advocating clear cutting for agriculture. I just meant that some land is not usable for crops, but is usable for livestock. I am avidly learning more about this aspect of human food.