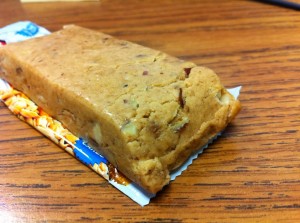 LISTEN TO INTERVIEW (30 MINUTES)
Editor's note – "High-fiber, low-net carb" products are often marketed as helpful for keeping blood sugars low.  The idea that a consumer can subtract the "fiber" carbs from the "total carbs," to figure out "net carbs," seems logical on first glance.  But like a growing number of  health experts and citizen groups, the Boulder Very Low Carb Diabetes Support Group found that in real life, it doesn't work that way.  I belong to this group of Type 1 and Type 2 diabetics who are working to stay healthy through diet over drugs.  When we  tested our blood sugars after eating a "low net carb" Quest Peanut Butter Protein Bar, the blood sugars of many members of the group rose roughly 50 points (Here's the spreadsheet of our results).   Quest responded by asking the group to test the whey protein alone, guessing that this might be the culprit that makes some blood sugars rise.  Overall, in this group of citizen scientists, blood sugars actually went down slightly after drinking water mixed with the whey protein alone.  To discuss this puzzle, and "next steps," Quest Protein Bar's Ron Kane agreed to an interview. And here's a written transcript, which is paraphased for clarity.  — Shelley
RON KANE – I am one of the guys here at Quest that has been around since the very beginning, one of the founders. I tend to focus on everything from product development to marketing.
Are you a nutrition expert?
RON KANE – Nutrition's one of those fields that, you have a lot of confidence when you don't know much, and the more you know, the more you know you don't know. You have to know a lot to call yourself an expert.
So you're not a nutritionist or a registered dietician or a clinical nutritionist.
RON KANE  – No. Not at all. I'm fascinated and I read extensively but I don't have any certification.
Well, Ron Kane, maybe you can help us figure out a mystery that has arisen in our very low carb, diabetes support group in Boulder Colorado. What is it in your net carb, low-carb Quest Peanut Butter Protein Bars, what's causing the blood sugars in our Diabetes Group to go up?
RON KANE – It's a weird puzzle alright. To figure it out, here's some information about us – our main market really is people that are focused on physique competitions, people who are particular about what they eat, and we manufacture our own bar. We don't use contract manufacturing. One of the reasons we do that is that, then, we know what's in our bars. I think it's been a couple of months since I heard how we shipped you guys in your diabetes support group some different products to check out and then you check how it affects your blood sugar. . . Blood sugar . . . we have a lot of people who share information with us. We have physicians who take their blood sugars very regularly or they have patients that do, and they share how our bars affect them with us. From all that, we've seen that blood sugar regulation seems like it's one of those things that's an art or science that's very individual. Some people have very strange reactions to all kinds of things. So I can't say for sure what caused the blood sugar changes in your group that ate our protein bar. I haven't seen the spreadsheet your group created about your results. But really the protein bar comes down to very few ingredients. You've got protein powders, you've got nuts, in the form of crushed nuts or nut butters. You've got fibers, and there are a couple we've used. Inulin and isomalto-oligosaccharide, which is basically a string of non-digestible fibers, either as fructose molecules in inulin and glucos in isomalto-oligosaccharide.
Is that non-digestible fiber like Jerusalem artichokes or something like that?
RON KANE – Exactly. You can get it in leeks, you can get it in onions. It's a naturally occurring plant fiber. It allows you to take your fiber up and well, different things have been said. I don't know if you're familiar with fructooligosaccharides, and a whole bunch of different plant fibers found in nature that are pretty interesting. That could be one of the things . . . I know we've definitely had some people, where anything with whey protein . . .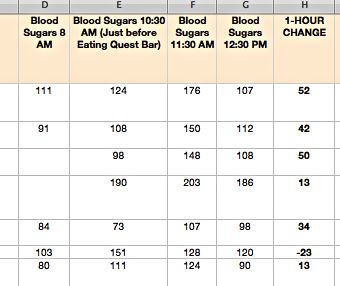 2011 Boulder Diabetes Support Group Quest Bar Tests – Bar and Whey Only
In our diabetes support group . . . when we did a test for everyone, eating the whole Quest Bar, it made about half the people in our group have blood sugars go up roughly 50 points, which is quite a bit, and the rise in blood sugars seemed to peak around the first hour.
RON KANE – Okay.
Some people saw a rise in blood sugar and some people did not. But there were enough who did, you can look on line at meandmydiabetes.com to see the video of people's responses to their personal results. Many were shocked to see how much their blood sugars went up after eating a low-carb protein bar.
RON KANE  – I remember actually seeing that video.
So you were kind enough to send us the whey protein, wondering whether the whey protein is the ingredient of the protein bar that was raising blood sugars in our group. We mixed it with water and each drank the same amount of whey that you put in your bars. But for us, the whey protein had an effect that was opposite what happened when we ate the whole Quest Bar. We certainly had some outliers where their blood sugars went up somewhat on the whey alone. But overall, our group did not experience the dramatic rise that came from eating the whole Quest bar, and in some people, at the one-hour mark when a Quest bar made so many blood sugars go up, with the whey protein alone, often blood sugars went down. So the net change in blood sugar response was in the opposite direction compared with eating the whole protein bar. Again, this was not a scientific study. For instance, we encouraged people to not eat for 2 hours before the test and so forth. Most people remembered to follow these directions but some people didn't. We included all their results in our charts, and the net effect was with the whole bar, a number of people's blood sugars went up pretty significantly. With the whey powder, when we tested it alone, it seemed to be pretty neutral, and an hour after drinking the whey with water, the overall effect on blood sugar seemed to be more down than up. That's what we've seen so far, and the guess in our group is there's something about the fiber and non-whey ingredients in a Quest Bar that, for us diabetics, makes blood sugars go up.
RON KANE – Has anyone in your group ever tested blood sugar after eating inulin and other plant fibers that are popular.
I don't know, but some members of our diabetes group were having a discussion about this last night, and the thought is that testing fiber alone would be hard, in terms of flavor. We might have to mix fiber with the peanuts in your bar. That might allow for testing your fiber in a way that people would actually try it.
RON KANE – And we've also got a lot of other products coming out that might be interesting to do some studies about, whether they're scientific or not, just to get some ideas. We have a bunch of products coming out where some will be lacking whey. Others will be lacking the plant fibers. That might also give us some clues, and it'd be interesting to test a bunch of plant fibers. We've used chicory root in the past, but that is not as tolerated on a gastrointestinal level. A lot of people have discomfort with chicory root, which is why we don't use it. As for what raises blood sugars, in the last year, whey protein is the one that is probably the biggest culprits people site, I would would say, I've seen responses across the board, there are people who report really high blood sugar readings from it and others who experience the opposite, which is kind of your group's experience. You've had people on both sides. I guess it really depends on the issue. If you notice, our bars are about 42 – 50% protein, depending on the flavor. There's some people who say look, we experience a blood sugar response, if we simply taste something sweet, even if it doesn't have calories. When I first read about blood sugar I was fascinated, because I thought this is the answer. Now, having seen all this variability in what people report, I know the picture is more complex.
Blood sugar response is fascinating. But what if it's more predictable than it seems. For instance, in our case, we're a group of roughly a dozen people, and we're seeing some pattern showing up, where, for our group of diabetics, whey did not seem to be a big deal, when it comes to raising blood sugars, but the whole bar was. And so I'm wondering — have you all actually tested your products in clinical trials for anything, to see how people respond, or is it more anecdotal how you get the information.
RON KANE – It really is anecdotal, since we weren't really targeting a diabetic product or anything. But you raise an interesting point because we've always looked at our bars as the whole. Have you guys ever tested like sucralose itself or stevia. Just sweeteners? Have you seen what a sweetener, alone, does to people's blood sugars?
I think we have anecdotal responses from our group about those, but I have not heard people saying that they steer clear of artificial sweeteners because they raise blood sugars. The reason some people avoid them is because they don't like the idea of artificial sweeteners. Some people don't like the taste. When it comes to blood sugars, in general people aren't talking about sugar substitutes, as much as they're talking about fiber. I think the issue for our group is that there is a lot of talk and question right now on the internet and in self-help communities about how to choose what to eat based on "Nutrition Facts" standard labels. Specifically, we wonder whether or not it's wise to subtract all the fiber from the total carbs in a product, on the assumption that only the "net" carbohydrates will affect blood sugar. It's our inclination and our hunch that you probably can't subtract out the fiber, when calculating the potential impact on blood sugars of the carbs. What do you think?
RON KANE – What's interesting about that is I was actually talking to someone about the Expo West last year who was an expert in resistant fibers.
That's an American Diabetes Association expo?
RON KANE – No, it's actually the Expos West, natural products expos west, and it's just kind of a showcase of a bunch of different ingredient manufacturers and people who make products in that industry. One of the things that is interesting is that fibers are digesting in different ways. Some aren't digested at all in the upper GI tract. Only in the colon, where they turn into short chain fats, which is what feeds some of the probiotic microbes in the colon. That's how maltooligosaccharides are supposed to be digested, as in inulin. Other fibers are digested much earlier in the process.
Since so many people in our group saw blood sugars go up when eating a low-net carb Quest Bar, it might be that the gut microflora of the people in our group is unusual, and that leads to an unusual way that we are digesting high-fiber products. But there's another way our group might be special — it's that this is a group of diabetics. I don't know enough about the tests that have been done about the ingredients you use, and who has tested them on what and who. I gather from what you're saying that your products aren't really tested as a whole item on either healthies or diabetics.
RON KANE
 – That's really the only kind of testing we've done is as a whole product. We've never broken it down into its constituent parts.
Who have you tested it on.
RON KANE – It's really just anecdotal. My mother's a diabetic. She responded really well to eating our protein bars, although the reports I tend to believe more are, we have quite a few physicians who have shared information with us about patients. Or physicians who are diabetes, and they report their findings to us. I won't even pretend that we've done an analysis of each individual or group reports. The diabetic community, I think , has gravitated to our products, simply because we don't really use any sugar, maltodextrin, that kind of thing. They look at how the carbs really come from the nuts. Even the proteins we use are completely devoid of lactose. It's interesting because it would be fun to do a much wider scale study. Although just testing blood sugar . . . It's a little . . . blood sugar is one of those things, when I first heard about it, I thought this is the answer to everything. The problem is that there's so much variability. I think one of the people you copied me on is David Mendosa. He's been writing on the internet about the variability of blood sugar and questions about the variability of blood sugar increases caused by carb forever.
David Mendosa has been writing about fiber and blood sugars a lot allright, and he wrote about the Quest Bar test our group did, and what it seems to show about fiber raising blood sugars about half as much as regular carbs. For me, I'm curious about this in a lot of different ways. Your website shows a lot of body builders and obviously your product is popular with them. Well it's also the case that your product and other net fiber products are frequently seen in diabetes journals and on websites that cater to diabetics. So certainly, it seems that an emerging market for you, is people with diabetes. And am I right about that?
RON KANE – Yes, I would say there are five or six different markets and I would definitely say that's one group of people. We have a lot of physicians for example who are telling their patients, eat more protein, and so people kind of find us. So I would say that's an emerging market. It's not our main target by any means, since we do't target that community. But we do have a lot of people from that arena who come to us.
So it'd be helpful for many people to find out what's happening with diabetics, specifically, when they eat these bars. Our guess that the ideal way to do check it out would be to take it beyond what our citizen's group has done, where we checked our blood sugars alone. Better, we think, would be to check people's insulin levels as well as their blood sugars, after they eat this kind of product. In our test, we had everyone come in, and we wanted them not to eat anything after breakfast, so they came in 2 hours after they had eaten breakfast, and we took their blood sugars. Then we took them again one hour later. We took them again 2 hours later. We knew what their fasting sugar was before they had breakfast. We knew their blood sugar two hours later, before they ate the bar. And so on. We can do this because blood sugar readings are inexpensive to do these days.
RON KANE  – Sure.
What would be even better for a diabetic is to find out what is happening to insulin levels because right now, that's a hidden factor. You could have some diabetics who have a very strong pancreas, but their cells are very insulin resistant. What could be happening when that kind of diabetic eats your bar is that you don't see much rise in their blood sugars, but their insulin is going through the roof. Or they see both a rise in insulin and a rise in blood sugar.
RON KANE – Right.
Or you could test it on people who have a very weak pancreas. They don't produces a lot of insulin, and you might see a higher blood sugar rise in them because their insulin never kicks in.
RON KANE – Yes.
It would be very useful for people to better understand the relationship between sugars and insulin, and diabetics are a population where, since they have this deficit in how their body works, their bloodwork reveals some things that you might not seen revealed in a healthy. And we could all learn something from that.
RON KANE – Yes. I remember when I first saw the insulin index, I was surprised and troubled, because fish and things like that were raising people's insulin levels pretty significantly.
That's right.
RON KANE – A lot of protein powders did the same thing
Makes sense, since protein consumption triggers insulin release.
RON KANE – Ultimately you'd want to see the insulin-glucagon ratios. That would be the ultimate relationship, I think. My instinct is that a lot of things that we consider low carb cornerstones or the gold standard, such as eating proteins and things like that may not fare well on an insulin index. However, Dr. Eades in his blogs has talked about really, it's probably the insulin glucagon ratio that's most important because protein also stimulates glucagon secretion. You have any experience with that?
I don't. He's not one of the people who I follow closely. There are some other doctors I'm more intrigued with as researchers. I like Ron Rosedale, Steve Phinney, Jeff Volek, but I think you're correct that it would be interesting for a number of us to have these experts do a meeting of the minds, and see what they would say would be helpful to know. After all, there are so many net carb products with high amounts of fiber, and it's a bit of a black box what's happening when we eat those foods and they're getting digested inside of us. It doesn't sound like you've done glycemic load studies of your foods.
RON KANE – We really haven't and it's interesting, what you're reminding me of is that we have some products coming out that are higher in fat and lower in fiber. It'd be interesting to also throw those into the mix, these protein fat products . . . and nuts. Ron Rosedale, I've read a lot of his stuff, too, and I think what's . . . it seems to me that the blood sugar readings are sort of grasping at something that's indirect, and I think your'e right that getting at the hormones themselves, the insulin, the glucagon levels are going to give much better information for how foods affects people. From my understanding, blood tests of these hormones are ordered so rarely, they must be fairly expensive.
I think you or I could get these tests on line, for an insulin blood draw for maybe $90. We could order it, but we'd need, for this kind of test, it'd be most interesting to have it be a 2-hour test, though there's some thought now that a 5-hour test would be even better as a food challenge. I think it would be so interesting.
RON KANE – That's fascinating, and it also, it really kind of goes forward in product development because we've never sort of taken the front end approach which is interesting which is to say, "Let's talk some people, and study both healthies, as you call them, and people who are diabetic, because unfortunately, I don't think anyone knows the answer right now. I've looked for it, but you read a lot of conflicting things. Maybe we could do a body of evidence, at least for ourselves Maybe not something that would stand peer review, but something we would learn more about with. I remember whey protein does cause the secretion of quite a bit of insulin.
Whey protein probably triggers responses in the insulin pathway,  because dairy generall contains a lot of IGF, so with that, and the protein, it's a strong promoter of insulin like responses. And some people have allergic responses or sensitivities to dairy products Who knows what that does to hormones or to inflammatory responses. There are a lot of different possibilities. But I like your idea of, "What if we cooked up a study?"
RON KANE – Yes. What's interesting is that I remember the branch chain amino acids in particular are insulinogenic. We use milk protein isolate, which is a little bit different than casein. Casein has less branched chains. If you really wanted to do it right, you'd have to start looking at different proteins. Even the word whey protein, as someone who buys this stuff all the time, it's a really broad classification. You've got ionic exchange, you've got filtered, and they have different chains of amino acids. I recall six or so that tend to raise insulin. So amino acid by amino acid, even that can affect responses. Plus some people probably do have an inflammatory reaction while the person sitting next to them does not. So it's a complicated situation, but I think you're really onto something with the idea of testing insulin and glucagon. Can you test glucagon? I haven't seen that.
I don't know. Since insulin and glucagon tend to be counter hormones – when one's up the other's often down, then it may be that testing one gives you a lot of information about the other. But you know what we could do, I could and you could contact some of these scientists and some of these clinicians and say, "If you were going to do the perfect, the ideal citizen-based test, of these products, what would you invite the citizens to do, and if there was going to be a clinical trial, of these products, what would be an ideal way to do it?" Then we could approach the American Diabetes Association, after we had done a little more kicking around of these things, and say, "As consumers, since the ADA represents the consumer group of diabetics, could you help figure this out? Could you help us fund a study."
RON KANE – There's so much value to the picking apart of it on the way in, so that once you've finished a study, or created a product, you don't get, Oh, wait a minute. You didn't take this into account and you didn't take that into account. A year ago, I was looking at the whole glucagon, insulin relationship and I got the feeling at that time that, wow, this whole concept of blood sugar is not enough. I am not a diabetic, but I have been really surprised how much blood sugar an be all over the place. Even cardiovascular exercise, before or after, it can screw things up. Even if I do the exercise the night before, it affects the blood sugar the next morning. I was a little frustrated just checking blood sugars. I think you've hit the nail on the head that measuring insulin or insulin/glucagon may be smarter than looking just at blood sugars directly.
Yes, and some of the factors that you're mentioning would be good to have sorted out too, because exercise in some people lowers blood sugars and in other people it raises them. So it might be good to have some experts guide us in what to be specific about in terms of encouraging people to do or not do before they take this test.
RON KANE – Yes.
 It depends on the kind of exercise, and the person, and when it happens. To have some of these more experienced clinicians and scientists help figure out what to encourage people to do in the 12 hours before the test.
RON KANE – Do you have access to these people or would you be reaching out to them blind.
Let's go for the really good ones. Let's go for Steve Phinney. Let's go for Jeff Volek; We could ask Eric Westman, and we could ask Ron Rosedale, and that would be a pretty good team. Who would you want on this team for kicking around this idea.
RON KANE  – The only other guy I can really think of is . . . Last name is Volek? Jeff Volek?
He's superb.
RON KANE – He's great, and Dr. Eades is the only other guy that's kind of interesting, I think. He's got a fantastic blog. But clearly, yes. Very interesting.
Then sure, let's get Dr. Eades involved too. Yes, it'd be fun. What I'll do is I'll transcribe this interview, and touch base with some of these folks, and see who else they might recommend, just to say, if we're going to do this, who should be included. On a related topic, in a citizen's group, they need to be assured that they're not hurting themselves with the test they're trying to do. They're less inclined to try eating something which they know is going to pump up their blood sugars. But one of my colleagues in this support group, Barry Erdman, pointed out that you there at Quest have some of the best possibilities for truly low-carb diabetes friendly energy bars. And to get this right would be quite a neat thing.
RON KANE – It would, and I have a selfish motivation, as I sit here and think about it, because you can imagine, even if it was an informal board of people that are passionate about it, they could say look, there may already be some answers out there that we can avail ourselves of. And maybe some studies that could be designed to be the tip of the spear to help determine, what's the new stuff that's going to come out. Because I don't think that's really being done. It whets my appetite just thinking about being able to work with these people to say, hey look. This hasn't really been done. Being a manufacturer, the biggest problem is that if you contract manufacture, which is how most do it, the way the machinery works, you can't get stuff to work unless you add sugar or glucose, which is why all the bars on the market are the way they are
 Meaning that to make stuff stir, in the big vats, you have to add some sugar or other bulker stuff to it.
RON KANE – Yes. Our product is so difficult to work with, we originally explored contract manufacturing, but there's no way you can do it. It took about nine months just to get the stuff to work, and it's just one of those processes where everybody who looked at it says, oh this isn't going to come together. We ourselves didn't want to add certain things, so we just kind of kept pushing through it. I used to wonder, why isn't more of this stuff out there. I think it's just the harsh realities of manufacturing on a large scale. We've spent a lot of time on that and now, if you had the brain trust of people that really understand what's going on, and they could say, these are substances we want to add, this is what we want to stay away from and this is the kind of responses people are getting, that is the truly dream come true for us,
Okay, my guess is that these folks would add in in their two cents for some degree of just freedom of sharing of information. But at some point, it might be good for somebody to pay for a real controlled study. Those things are expensive, but somebody needs to do it.
RON KANE – Not only that, but it might be something we'd be interested in, as well as paying these people for them time and putting together an advisory board. To my knowledge, I've never seen anything that was done backwards, so to speak. There's usually a product and then people are trying to figure out if it's any good. What's really interesting is building the product from the ground up, saying, let's have experts put their heads together and we'll say, "Let's build products backward."
And we'd all enjoy seeing what happens with that. And it could answer a larger question because right now fiber is advertised as something to subtract from carbs. And that might not be wise for someone who's got a weak pancreas or has insulin resistance. And it'd be good to figure out how these products affect people with those increasingly common conditions. Plus, it might give good information to other people as well.
RON KANE – Yes, and the same with the say FDA labels labels sugars. If you look at broccoli, it contains pound per pound more sugar than a quest bar, however, are all fibers treated the same? Probably not. It's just like amino acids. Most likely different fibers are metabolized differently or not metabolized at all. So that gets us in a lot of trouble is lumping things into three or four categories of macronutrients. The reality is probably much more complicated than that.
You wrote a good article about how some foods that we agree are pretty healthy can be misunderstood if you start looking at broad categories of ingredients.
RON KANE – And a lot of people look at fructose, which doesn't increase people's blood sugars, but not many people at this point would say we should be taking fructose in by the truckload. So it's complicated, but that's what makes nutrition so interesting.
I hear that you're curious to learn what would happen if some of these experts weighed in and we just have this dream idea out there of, wouldn't it be cool if we could devise a way that any citizen group could do this kind of test and figure these things out. Plus we could do it at a higher level, and the citizens could then help double-check the expert's results.
RON KANE – Yes. Exactly, and maybe a big university would get interested, too. I don't see why it wouldn't work. It's really exciting.
What's our next step then.
RON KANE – I guess contacting some of these different people, and also I'm going to do a little reading. I guess there are really 2 things. Designing the right protocol, in terms of what the testing requirements would be, and also picking people's brains to determine what do you think and what are the other things we're going to test. Broccoli. Are we going to look at that. How do we compare to get a baseline. So picking brains and just kind of thinking ourselves, and I guess after that, actually contacting people and saying, how would we go about doing this
Good idea!