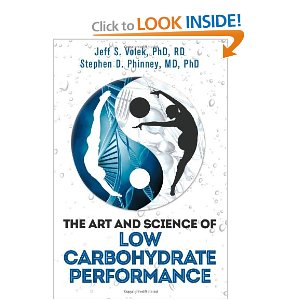 Listen here for a 55-minute, boisterous and mostly unedited live call-in show on KGNU Boulder/Denver with Steve Phinney, author of The Art & Science of Low Carb Living and The Art and Science of Low Carb Performance (a book on low carb eating for athletes).  This was a show to raise money for this non-commercial radio station, and Steve had donated books to give as gifts to listeners who called in with membership dollars.  The books were very popular, and so was Steve's conversation.  Topics he covered here include:
1) The Harvard "Calorie is not just a Calories" Study.  In this live show, Phinney explains what he considers good science, and what is NOT good science in a recent Harvard study, published in the Journal of the American Medical Association, that concluded that when it comes to diets for weight maintenance, diets should be ranked like this:  BEST:  The Harvard-recommended, Mediterranean Diet.  GOOD:  A Low-Carb diet.  NOT SO GOOD:  A Low-Fat diet.  Steve Phinney explains in this interview why he believes the science supports the idea that the Low-Carb diet is THE BEST.  In this program, Phinney also explains why he thinks the Harvard study missed the boat on testing a low-carb diet.  Why?  The Harvard researchers included too much protein in the diet, which messes up some of its benefits.
2) Low-Carb Ultra-Marathon Runners – Steve Phinney and Jeff Volek have just returned from testing competitors in a 100-mile or so race.  He reports that some of the runners, including the winner, prefer to live most of their lives eating a high-fat, very low-carb diet.  And it seems to be paying off in how fast and how long they can run.  Phinney and Volek did tests on runners on this kind of diet, and also runners who consume a lot of carbs to get ready for a race.
3) Why some diets work better for some people and some diets work better for others.  Phinney explains some of the clues he and other people have used to determine whether they benefit the most from a higher carb diet, or a very low carb, adequate protein, high fat diet.
4) Phinney and Jeff Volek's new books including some of the delicious recipes in the books, including green beans cooked in a way that leads them to taste like French Fries, by coating them in foamy whipped eggs whites and dry herb seasonings, and then frying them in hot oil.  He also shares the secrets of his very low carb, maple walnut ice cream.
Also in this interview is a bunch of urgent and unabashed asking for money for KGNU, a non-commercial radio station that occasionally broadcasts heretical programs like these.  If you feel inspired to give some dollars to KGNU after listening to this interview, click on KGNU.  – Shelley