Barry's Tempeh dish was part of a low-carb pot luck conducted by the Boulder Very Low Carb Diabetes Support Group.  We encouraged people to make it easy and fun, and to bring "tasting" size portions with no more than 5 grams carb in an actual serving, and smaller samples still for more tastings.
Makes 30 servings with 5 grams carb per serving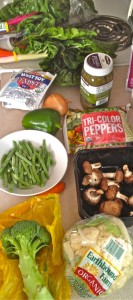 Ingredients
2 Tb coconut oil
2 packages 16-ounce organic tempeh
300 g cauliflower
10 oz (288 g) sliced tricolor peppers
118 g (medium) organic onion
118 g organic green beans
125 g mushrooms
40 g carrot (1 small)
130 g fresh green pepper
3 cloves garlic (13 g)
411 g rainbow chard (2 bunches)
6 g fresh basil
salt and pepper
2 Tbs organic virgin olive oil
225 g pesto
55 g grape tomato
DIRECTIONS
Gather, wash, prep ingredients.
Boil water and steam small cauliflower heads.
At the same time, melt coconut oil in a large cast iron pan. Slice tempeh thinner and into small squares, stir fry both sides. remove.
Clean pan, heat olive oil.Start stir fry. Add onions, mushrooms, frozen veggies (tri color peppers, green beans) if any, and continue to add longer cooking veggies (chard, carrot, etc.) first. Add garlic, salt, pepper. Add shorter cooking vegetables last. Keep stirring. Add steamed cauliflower, tempeh last, then pesto, fresh basil, sliced grape tomatoes last. Gently stir. Enjoy!
Makes 30 Servings with 5 grams per serving

Calories: 100
Protein:   7 g  28%
Fat:       6  g 53%
Carb:     5 g 18%